Exclusive AirAsia BAG TAG PRIVILEGES for ALL TOURISTS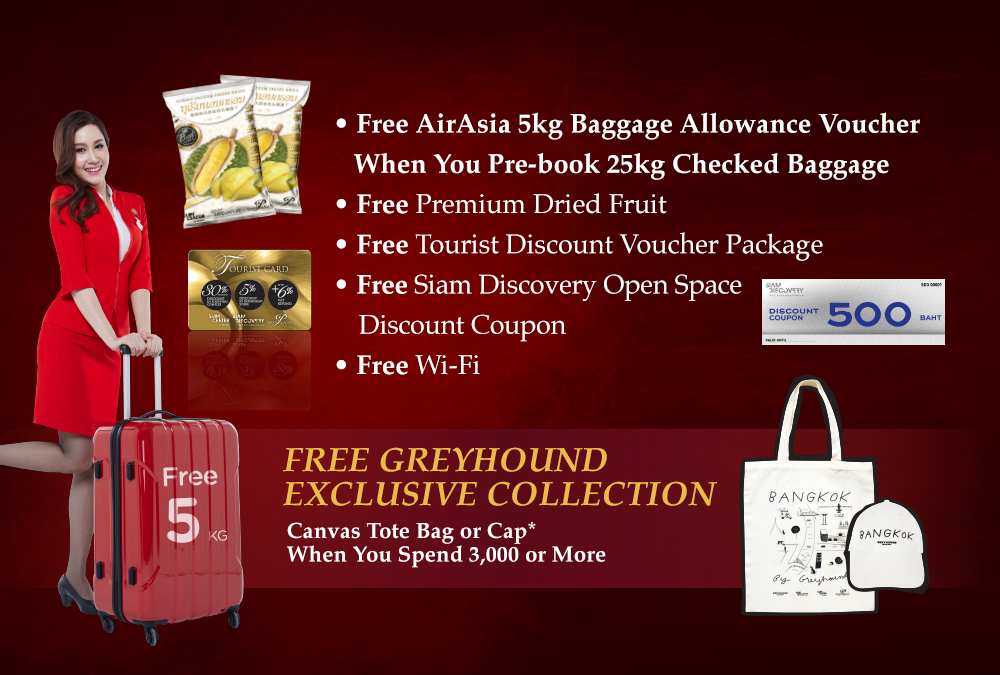 It's our greatest pleasure welcoming you with special privileges from AirAsia worth up to 7,500 THB. Simply show your passport with AirAsia Bag Tag and redeem all the privileges now at Tourist Lounge, G Fl., Siam Paragon.

We're giving away FREE AirAsia 5kg BAGGAGE ALLOWANCE VOUCHER when you pre-book 25kg checked baggage. Moreover, we're also provided you FREE Wi-Fi, FREE premium DRIED FRUIT, FREE TOURIST DISCOUNT VOUCHER Package, and FREE Siam Discovery OPEN SPACE DISCOUNT VOUCHER worth 500 THB.

On top of all the privileges, FREE Greyhound Exclusive Collection CANVAS TOTE BAG or CAP when spend 3,000THB or more.

Terms and Conditions:
1. This promotion is only for AirAsia international customers.
2. Customers must present AirAsia baggage tag with a passport.
3. Valid from 1 November 2017 to 31 May 2018.
4. Limit 1 bag tag/privilege/person.
5. A baggage tag is valid for 1 month after flight date.
6. Premium dried fruit is limited to 2,000 pieces (1 person/pc).
7. Customers spending 3,000 baht or above must choose to get either Greyhound Canvas Tote Bag or Cap.
8. Receipts must be issued on the same date as the redemption date.
9. Siam Discovery Open Space Discount Voucher is limited to 200 pieces (1 person/pc).
10. Receipts can be combined from any shops in Siam Paragon, Siam Center, and Siam Discovery.
11. The company reserves the right to change or adjust the promotion, as well as terms and conditions without prior notice.