CALL & SHOP Service
CALL & SHOP
Let our personal shoppers shop for you!
Tel. 063-205-7989 / 063-205-7974
or add LINE @CALLANDSHOP

Available everyday from 10.00-18.00 hrs
Pay by Credit Card / Debit or money transfer

FREE DELIVERY Kerry Express
Min.500 THB
1 – 30 SEP '21

SAME DAY DELIVERY within 20 km
Min. 1,000 THB
1 – 30 SEP '21

Special for new VIZ Expats Member,
Get 200 THB Siam Gift Card** when registering via the link below.
APPLY VIZ NOW : https://lineoa.onesiam.com/vizExpat
** Siam Gift Card can be redeemed at Siam Paragon G Floor, Tourist Counter when the shopping mall normally open; Siam Gift Card can be used at participating shops and brands in Siam Paragon, Siam Center and Siam Discovery with minimum spending at 400 THB/bill, T&C applied.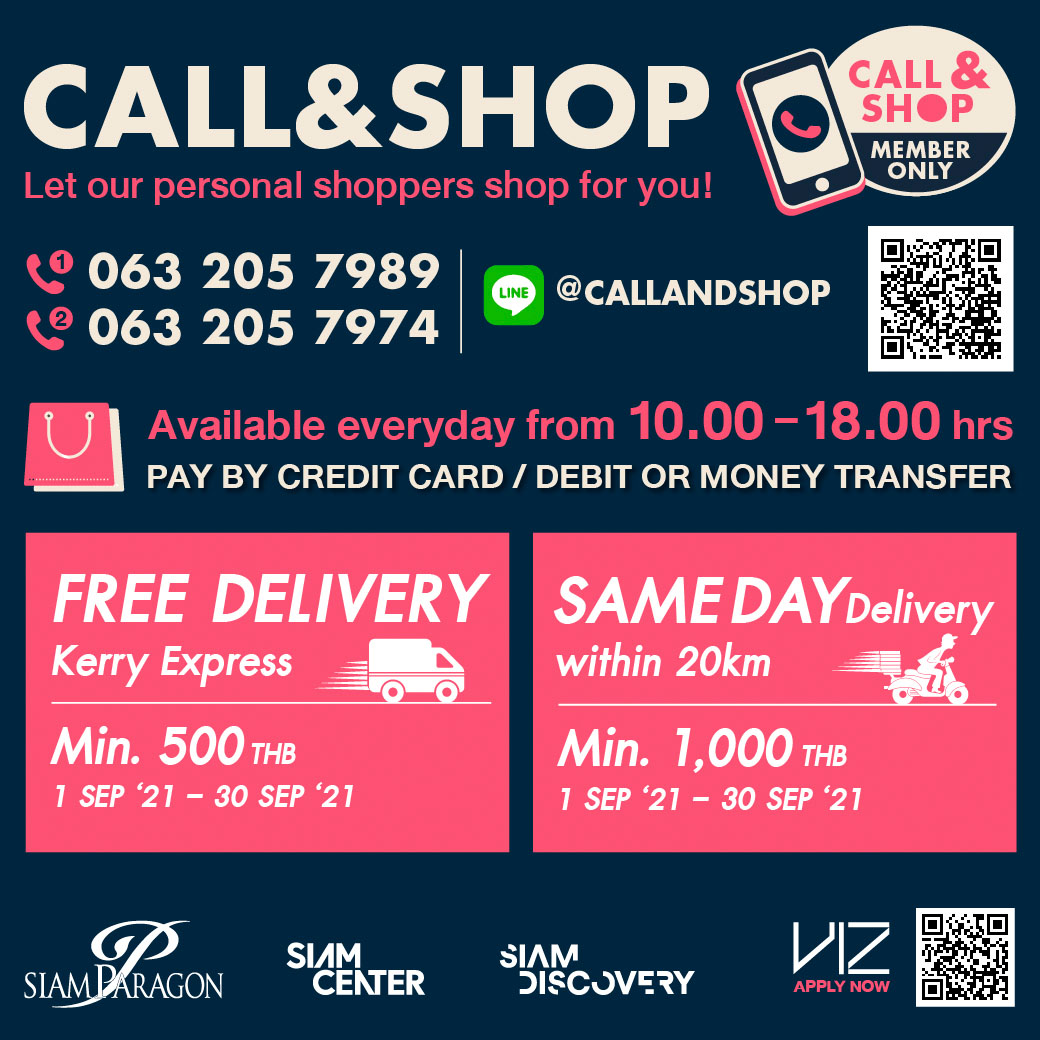 聊购 & 致电服务
让我们的独享购物助手帮您购买

电话或LINE带来轻松选购体验
ONESIAM暹罗商圈和暹罗天地ICONSIAM的商家准备了有众多商品供您挑选:美食、奢侈品、美妆等等。只通过电话或LINE 群就可以享受私人导购
您可以在此链接免费申请,并获取价值200 泰铢的暹罗礼品卡*
点击:https://lineoa.onesiam.com/vizExpat

此卡可适用于下笔在暹罗百丽宫、暹罗中心、暹罗探索消费满400 泰铢,曼谷封城后可兑换

ONESIAM (Siam Paragon, Siam Center, Siam Discovery)
LINE @CALLANDSHOP
CALL : 063-205-7989 / 063-205-7974
• 服务时间: 每日,10.00-18.00
• 支付渠道:信用卡、借记卡,或网银支付
• 只有英文服务
• 免费配送!
• 免费快递( Kerry Express)只需消费500泰铢以上,2021年9月1-30日之内
• 同日内送货,只需消费1,000泰铢以上,2021年9月1-30日之内

*暹罗礼品卡可兑换于Siam Paragon暹罗百丽宫, G层, 国际旅客服务台.,可适用于下笔消费满400泰铢/小票于暹罗百丽宫、暹罗中心、暹罗探索内参加活动的商家。当商场正常营业顾客可兑换该暹罗礼品卡