‼JOIN VIZ & GET FREE 200 THB*!
!!JOIN VIZ & GET FREE 200 THB*!
【Exclusively for non-thai customers】
CLICK:http://bit.ly/2ZmdXNO

15 FEB'21 – 28 FEB'21

GET FREE SIAM GIFT CARD 200 thb*!
When online registering VIZ TITANIUM membership card via the link.
Privilege Only NEW MEMBER

PLUS! Enjoy the privilege from VIZ Titanium membership:
• Up to 30% discount
• Collect double point from every purchase
• Free Gift Card 100 thb by redeeming VIZ point*
• Birthday Privilege
• Free Parking 3 months*

Redeem at: SIAM PARAGON, TOURIST COUNTER, G FLOOR (STAR DOME ZONE)

T&C:
Siam Gift Card 200 THB (require minimum spending 800 THB for next purchase) is limited to 200 pieces. • Limit 1 redemption/person throughout the campaign. • Customer must apply for VIZ Titanium Membership Card (VIZ EXPATS) upon redemption (for new member only). • Siam Gift Card can be used at participating brands at Siam Paragon, Siam Center, and Siam Discovery. • Siam Gift Card's expiry date is 15 August 2021. • The company reserves the right to change or adjust the promotion without prior notice.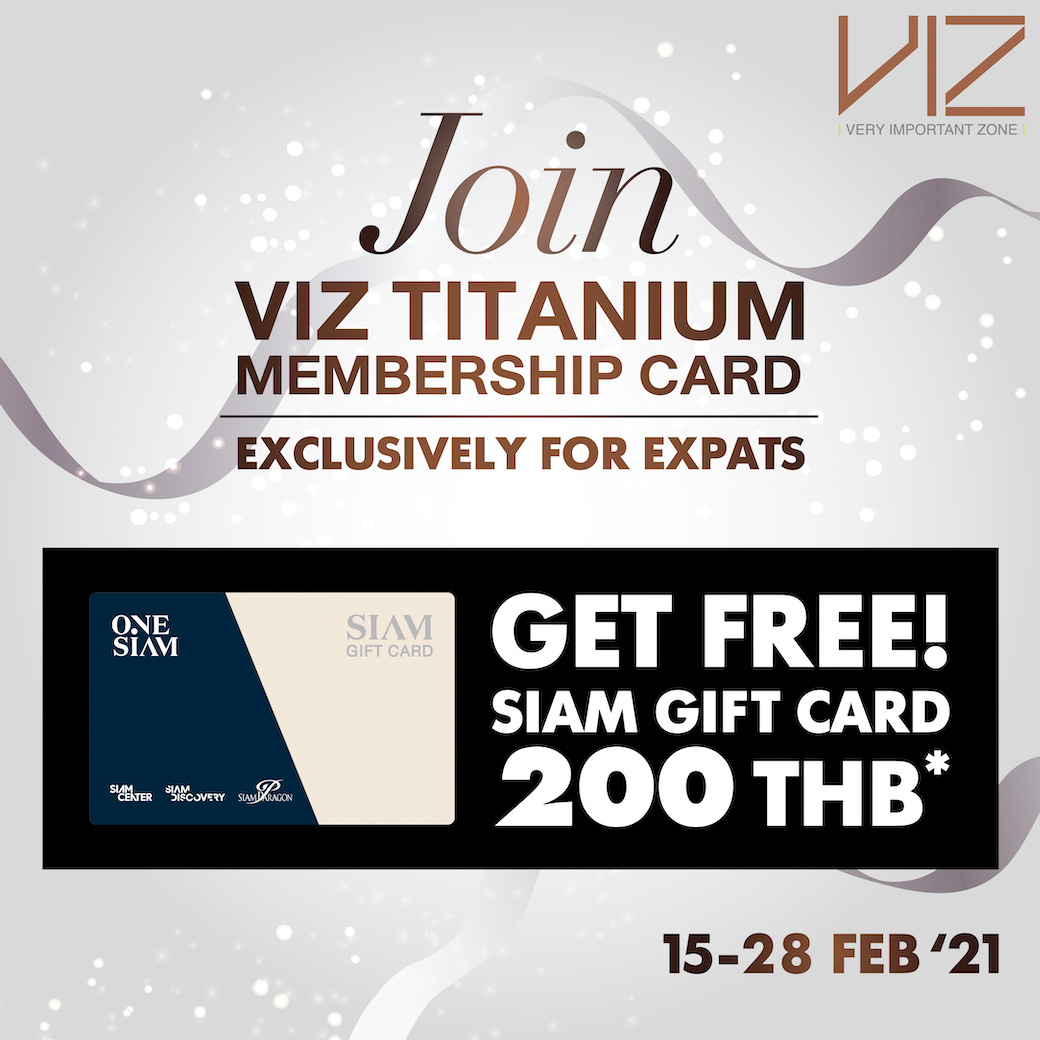 !!免費申請 VIZ 卡即可獲 200 泰銖*!
【非泰國國籍顧客專屬特惠】
點擊申請:http://bit.ly/2ZmdXNO

2021 年2月15-28日,
免費贈送 200泰銖暹羅禮品卡*!
只需線上申請 VIZ TITANIUM 會員卡 (通過以上鍊接)
優惠限制新會員為準。

會員特惠!立即享受:
• 高達 30% 折扣
• 累積雙倍會員積分
• 送100泰銖暹羅禮品卡(使用會員積分兌換)*
• 生日禮品特惠
• 免費停車 3 個月*

兌換處: 暹羅百麗宮Siam Paragon, G 層,國際旅客服務櫃檯(STARDOME區)

條款:
價值200泰銖暹羅禮品卡可適用於下筆消費滿800 泰銖及以上總量200 份;兌換整個活動限制1次/位;顧客務必申請VIZ TITANIUM 會員卡(VIZ EXPATS)而優惠限制新會員為準;暹羅禮品卡可適用於暹羅百麗宮、暹羅中心、暹羅探索內的參加活動之商店或品牌;禮品卡有效期為2021年8月15日;本公司具有最終解釋權若有任何條款更改恕不另行通知。