ONESIAM WELCOME BACK WARRIORS!
Exclusively for International Customers
Enjoy Your Best Experience at Siam Paragon, Siam Center, and Siam Discovery
16 Sep'21 – 31 Oct'21

SHOPPING REWARD
• Spend 12,000 THB
Receive free Siam gift Card 800 THB
(For next purchase of 1,600 THB. Siam Gift Card is limited to 100 privileges. 1 privilege/person/campaign)

MasterCard Holder Privilege
• Spend 5,000 THB with Mastercard and Show Passport
Receive free Siam gift Card 300 THB
(2 redemptions/card/day. Mastercard Card issued overseas only)

VIZ NEW MEMBER REWARD
Receive free Siam Gift Card 200* THB
CLICK to apply NOW : https://bit.ly/3xDlaJ4
• Enjoy up to 30% discounts
• Earn 2 Points on every 50 THB spend
• Be the first to enjoy special privileges and exclusive activities
• Access to reserved parking area

Redeem at Siam Paragon, Tourist Counter, G Floor (Stardome Zone)

Conditions:
1. Customer must apply for VIZ Titanium membership card (VIZ Expats) upon redemption.
2. Customers can combine receipts from Siam Paragon, Siam Center, Siam Discovery (except receipts from Paragon Department Store, Gourmet Market, and Gourmet Food Hall).
3. Receipts must be issued on the same date as redemption date.
4. Siam Gift Card redeem at Siam Paragon can be used at participating brands at Siam Paragon, Siam Center, and Siam Discovery.
5. Siam Gift Card's expiry date is 31 Dec '21.
6. The company reserves the right to change or adjust the promotion without prior notice.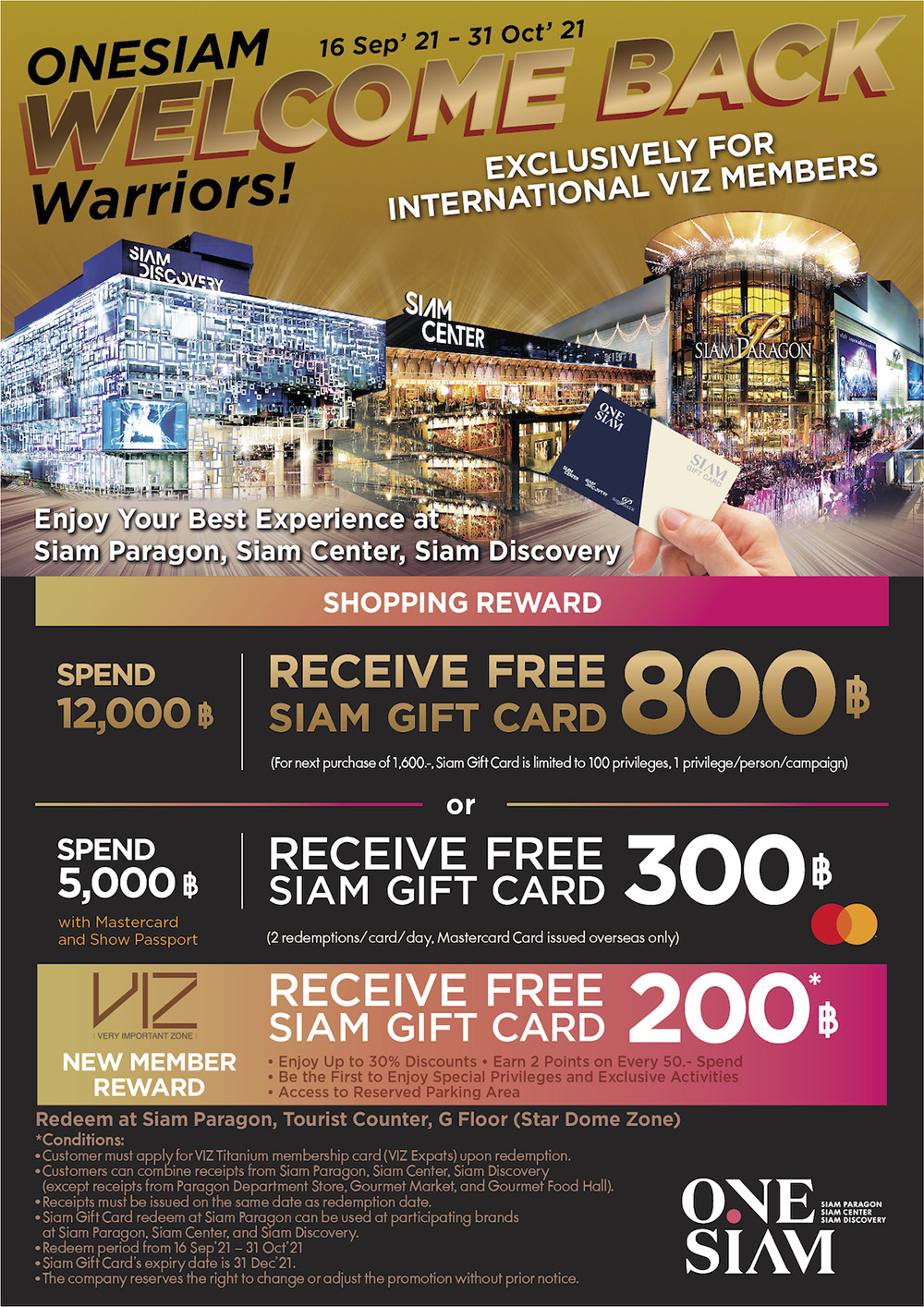 ONESIAM暹罗商圈 欢迎您回来,2021年9月16日至10月31日
体验您的非凡极致的购物经验于暹罗百丽宫,暹罗中心和暹罗探索

购物奖品
• 购满 12,000 泰铢即可获 暹罗礼品卡价值800 泰铢
(可适用于下笔消费满 1,600泰铢,限量 100 名额,限1位/份/活动)

万事达卡折上折
• 使用万事达卡购满 5,000 泰铢,即可获暹罗礼品卡价值 300 泰铢
(限制兑换 2次/卡/日,仅限泰国国外注册的万事达卡)

VIZ 新会员奖品
赠送价值 200 泰铢暹罗礼品卡*
立即点击 : https://bit.ly/3xDlaJ4
• 享受高达 30% 折扣
• 累积 2 会员积分在每购满 50 泰铢
• 可第一享受各种折扣优惠和活动的特权
• 供应停车位

可兑换于暹罗百丽宫 Siam Paragon,G层,国际旅客柜台(Stardome区)

条款与规定:
1. 兑换前,顾客务必申请 VIZ Titanium 会员卡(Expats);
2. 顾客可累积从暹罗百丽宫,暹罗中心和暹罗探索内的消费小票,不包含百丽宫百货区、Gourmet超市和Gourmet Food Hall 美食广场;
3. 消费小票和兑换务必在同日内
4. 暹罗礼品卡可兑换于暹罗百丽宫,可适用于在暹罗百丽宫,暹罗中心和暹罗探索内参加活动的商家;
5. 暹罗礼品卡有效期位 2021年12月31日为止
6. 本公司具有最终决定权, 若有任何条款更改,恕不另行通知。