SIAM CENTER SHOPPING CRUSH
SIAM CENTER SHOPPING CRUSH
May 17, 2021 – Jun 20, 2021

Shop for items or have a meal at a participating store in the shopping malls according to the set spending amount and the terms and the conditions
Redeem rewards, total value 5.3MB

Siam Center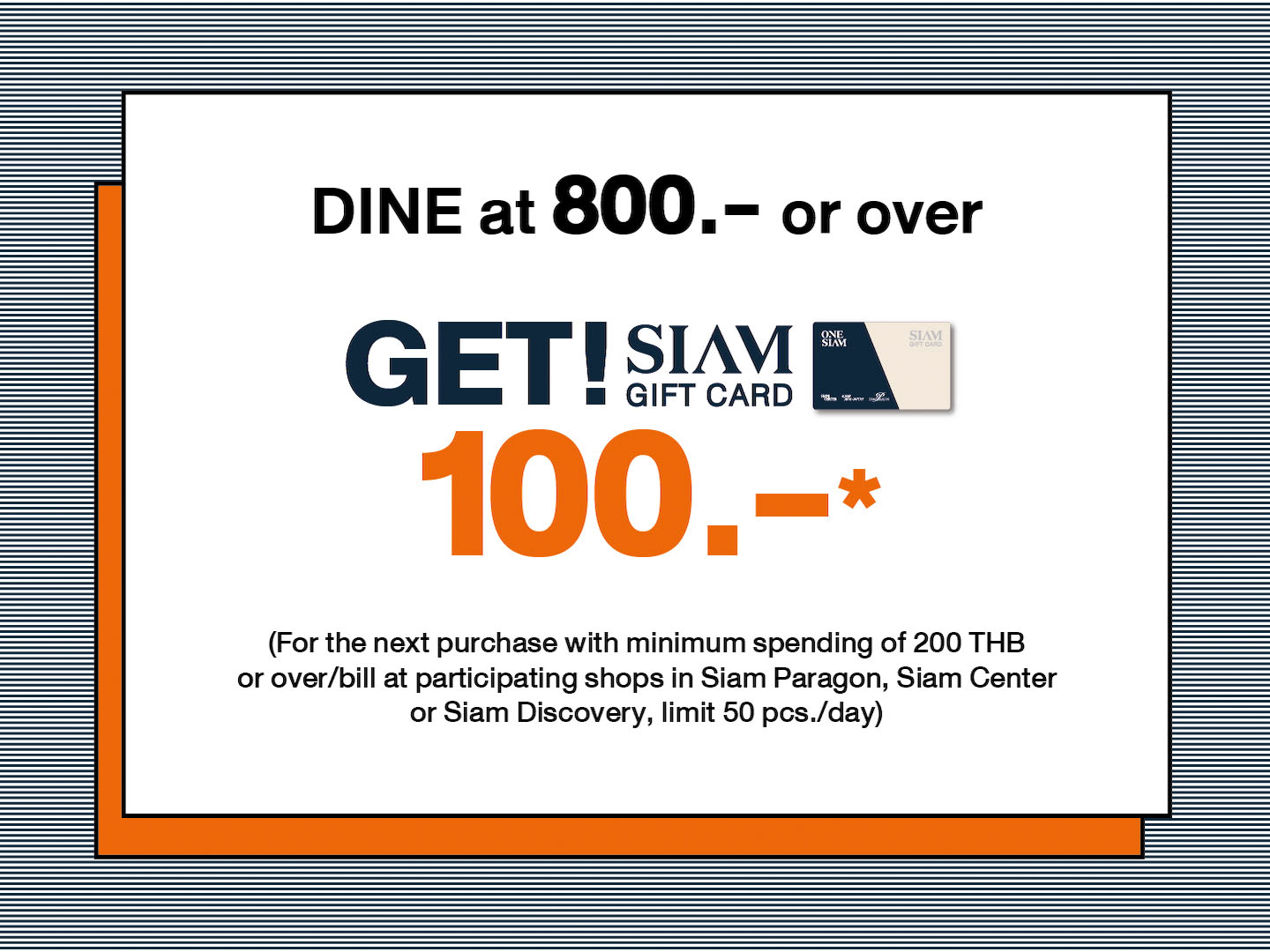 • Have a meal at 800 THB or over, get a Siam Gift Card 100 THB*.
(For purchasing products at 200 THB or over/ receipt/ one Siam Gift Card at a participating store where Siam Gift Cards are accepted, in Siam Paragon, Siam Center, and Siam Discovery only.)
*Limited 50 rights/ days, limited 1,750 rights throughout the whole campaign.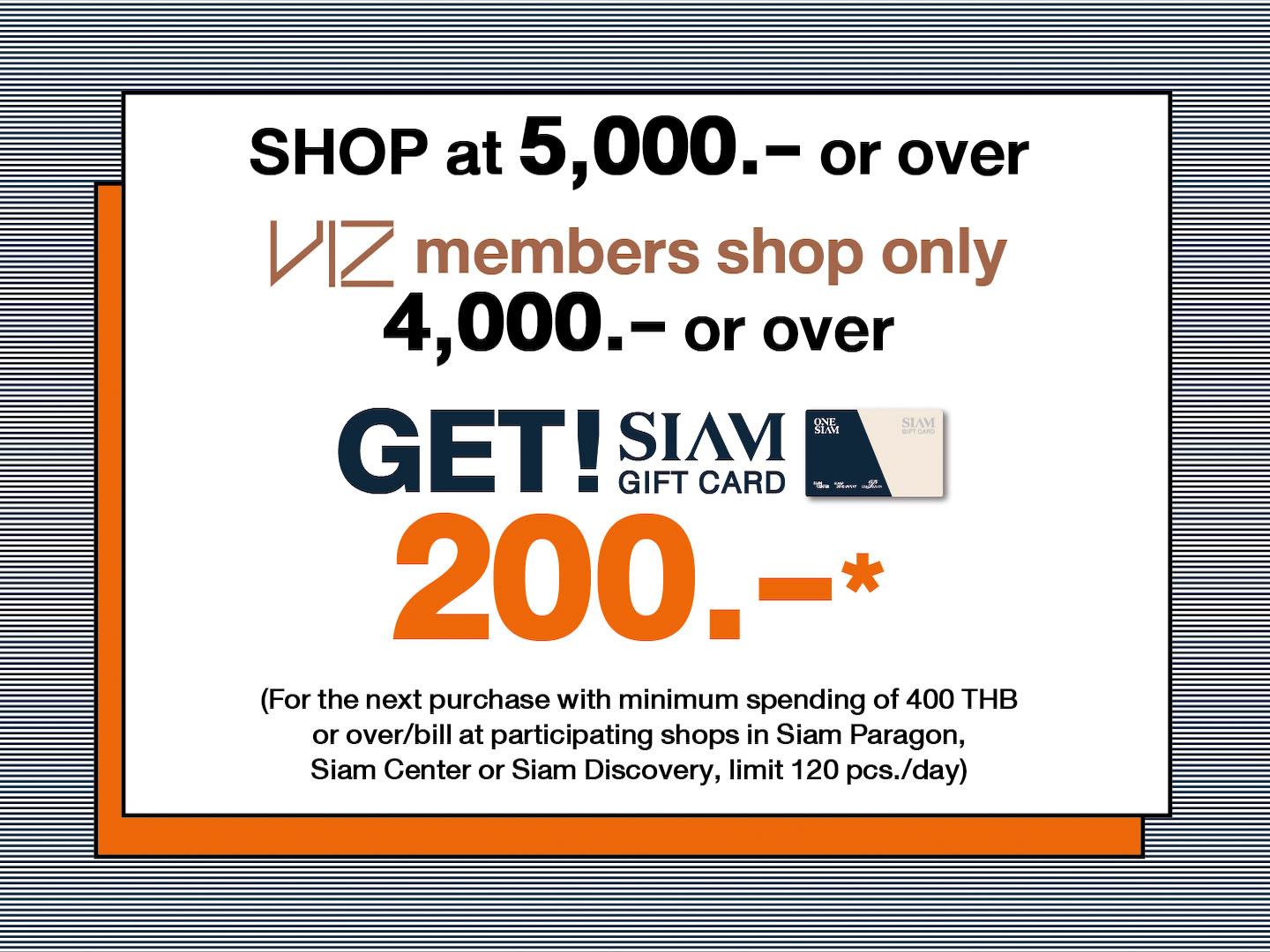 • Spend 5,000 THB or over. Special offer for VIZ Card members! Spend only 4,000 THB, get a Siam Gift Card 200 THB*.
(For purchasing products at 400 THB and over/ receipt/ one Siam Gift Card at a participating store in Siam Paragon, Siam Center, and Siam Discovery only.)
*Limited 12 rights/ day, limited 4,200 rights throughout the campaign.
Redemption Point: Redemption Point, G Floor, Siam Center




Special Offer for VIZ Card Members!
• Spend 15,000 THB or over, get a Siam Gift Card 1,000 THB**.
(For purchasing products at 2,000 THB or over/ receipt/ one Siam Gift Card at a participating store where Siam Gift Cards are accepted, in Siam Center only.)
Redemption Point: VIZ Counter, 1st Floor, Absolute Siam Zone, Siam Center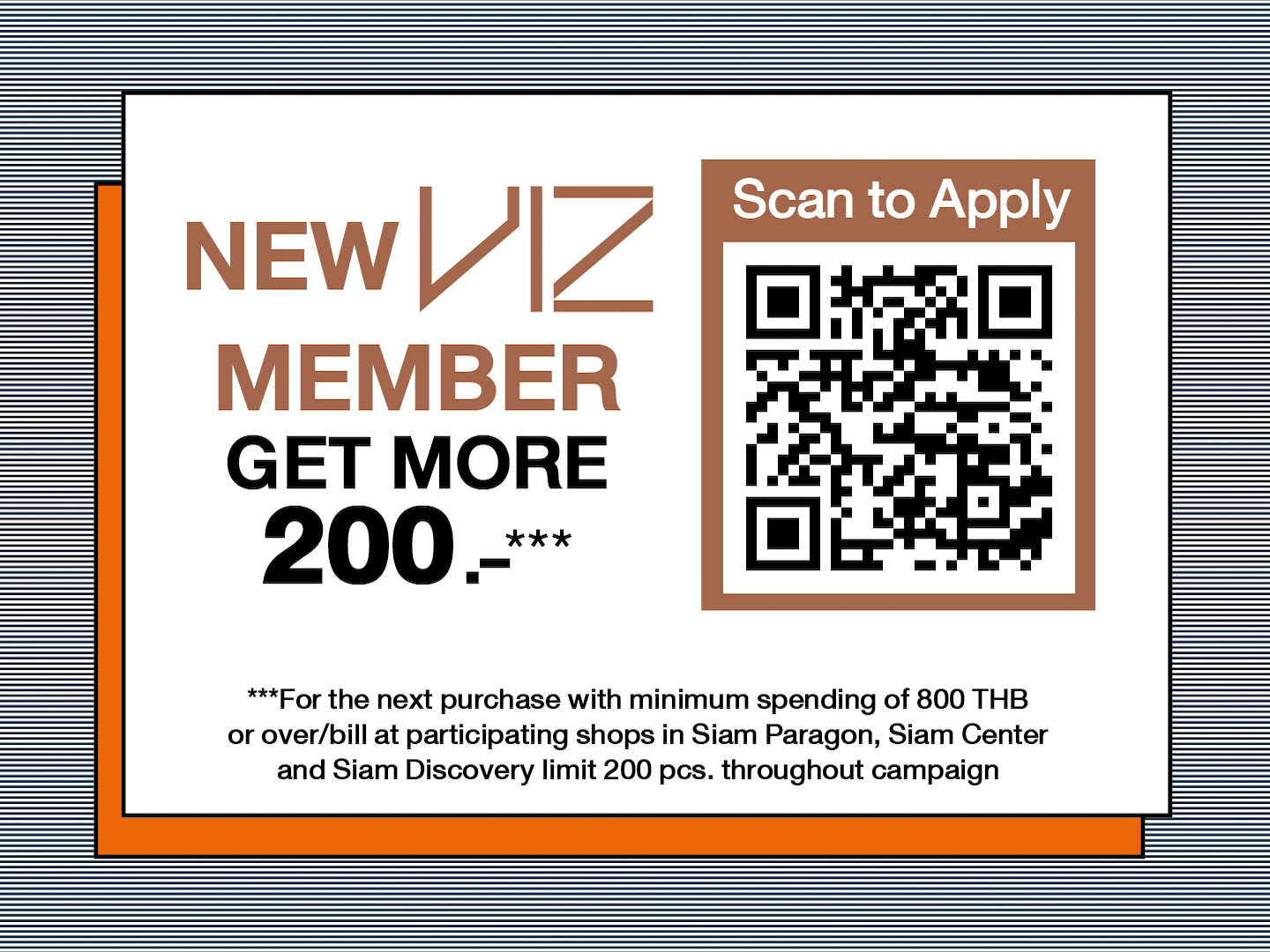 Special Offer for New VIZ EXPAT Members! Get Free Gift Card 200 THB!***
CLICK to apply : https://bit.ly/33PnO0Q

Redeem at:
• Siam Center, VIZ Counter, 1st Floor (Absolute Siam Zone)

Enjoy privileges:
• Up to 30% discount
• Collect points 50 THB = 2 points
• Gift rewards every 1,000 points = Gift Card 100 THB
• Birthday privileges
• Free parking 3 months***


*T&C for tier spending promotion
1. Collect all receipts of products and services paid to participating stores located in each shopping mall, then redeem for SIAM GIFT CARD on the same day at REDEMPTION Counter. (Reserved for spending at 500THB or more/ 1 receipt/ 1 redemption)
2. SIAM GIFT CARD redemption is limit to 1 privilege/person/shopping mall/day. (All tiers included.) Limited privilege.
3. SIAM GIFT CARD is deemed to purchase items at SIAM GIFT CARD participating stores, located in Siam Paragon, Siam Center, Siam Discovery. Please recheck further details of participating stores at REDEMPTION Counter.
4. The 100THB SIAM GIFT CARD is deemed to purchase items at SIAM GIFT CARD participating stores, for 200THB or more/ receipt ONLY.
The 200THB SIAM GIFT CARD is deemed to purchase items at SIAM GIFT CARD participating stores, for 400THB or more/ receipt ONLY.
The 400THB SIAM GIFT CARD is deemed to purchase items at SIAM GIFT CARD participating stores, for 800THB or more/ receipt ONLY.
The 700THB SIAM GIFT CARD is deemed to purchase items at SIAM GIFT CARD participating stores, for 1,400THB or more/ receipt ONLY.
5. One of SIAM GIFT CARD is deemed to purchase for one time with 1 receipt ONLY.
6. The redeemed SIAM GIFT CARD valid until July 31, 2021 ONLY.
7. At FOOD REPUBLIC, SIAM GIFT CARD is reserved to buy or top up VIP FOOD REPUBLIC Card ONLY. (The card is non-refundable with 50THB of card deposit fee). SIAM GIFT CARD is not deemed to buy the refundable food coupons.

**T&C for VIZ cardholder privilege
1. The promotion is reserved for all VIZ Cardholders who purchase and collect points through VIZ Card with T&C applied.
2. Register your purchase amount, redeem your points, and/or learn more information at VIZ COUNTERs: Fl 1, Absolute Siam Zone, Siam Center; and G Fl, Siam Discovery ONLY.
3. Limit to 1 SIAM GIFT CARD/ 1 member/ 1 shopping mall. Limit to 200 privileges/ throughout the period.
4. The 1,000THB SIAM GIFT CARD is deemed to purchase at 2,000THB or more/ receipt/1 SIAM GIFT CARD ONLY.
5. The 1,000THB SIAM GIFT CARD is deemed to purchase items at SIAM GIFT CARD participating stores, located in Siam Center ONLY.
6. The redeemed SIAM GIFT CARD valid until July 31, 2021 ONLY.
7. The 1,500THB SIAM GIFT CARD is deemed to purchase at 3,000THB or more/ receipt/1 SIAM GIFT CARD ONLY.
8. The 1,500THB SIAM GIFT CARD is deemed to purchase items at SIAM GIFT CARD participating stores, located in Siam Discovery ONLY.
9. The redeemed SIAM GIFT CARD valid until July 31, 2021 ONLY.

***NEW Member's Siam Gift Card Terms and Conditions:
Siam Gift Card 200 THB (require minimum spending 800 THB for next purchase) is limited to 200 pieces. • Limit 1 redemption/person throughout the campaign. • Customer must apply for VIZ Titanium Membership Card (VIZ EXPATS) upon redemption (for new member only). • Siam Gift Card can be used at participating brands at Siam Paragon, Siam Center, and Siam Discovery. • Siam Gift Card's expiry date is 15 August 2021. • The company reserves the right to change or adjust the promotion without prior notice.

Terms and Conditions for all tier spending and privilege
1. The redemption must be made by shoppers ONLY, or by their representatives with a valid authorization letter. The store sellers are limited to represent for 2 privileges/ shopper/ day ONLY.
2. The redemption requires for receipts(s) from participating stores, ID card and credit card, and in events of credit-card payment, a sales slip together with the credit card used for the payment.
3. In an event of handwritten receipts, please mention customer's name clearly. The company reserves all rights to make photocopy.
4. A receipt is eligible for one promotion only.
5. The promotion is not valid in events of: Copy of receipts; One product purchase split to several receipt; Receipts from shopping malls, Paragon Department Store, tenant stores located in Paragon Department Store, Gourmet Market, Food Court, and Food Hall; Spending is made for gift cards or prepaid cards of any stores; Receipts are issued for rental or deposit payment; Spending is made for commercial/ wholesale/ reseller purposes; Receipts for utilities or investment, e.g. unit trust, life insurance, water bill, electricity bill, mobile bill, etc.; prepaid sim card payment; money exchange; company tax invoice.
6. In case if it is proofed that person who redeems is not the owner of receipts presented for this redemption or is not the shopper; the company reserves all rights to reject the redemption.
7. Limit to 1 person to line up for 1 redemption ONLY. All rights reserved to redeem gifts for who hold receipts with T&C applied until the privileges last.
8. Receipts from IT and Mobile stores must mention buyer's name, which is the same person who present his/her ID card at the redemption. All rights reserved to reject the non-complied receipts.
9. In an event if the store sellers or store owners purchase any items in the stores, the receipts are non-complied with the promotion. The company reserves the right to reject the redemption in case of non-complied receipts.
10. The Company shall not be responsible for any communication errors occurred by tenants' staff.
11. In an event that customers return products bought, the company reserves the right to take back or prevent any use of privileges without prior notice.
12. The Company reserves the right to change prizes/ privileges and conditions without prior notice.
13. Terms and condition of the promotion are designated by the company. Please recheck further T&C at Redemption Counters. In an event of dispute, the company's decision is considered final.




ONESIAM 暹罗商圈购物大活动
2021年5月17日- 2021年6月20日

在各购物中心参加活动的店铺中,购物或用餐消费满足指定的金额和条件,即可兑换总价值超过530万泰铢的奖品

暹罗中心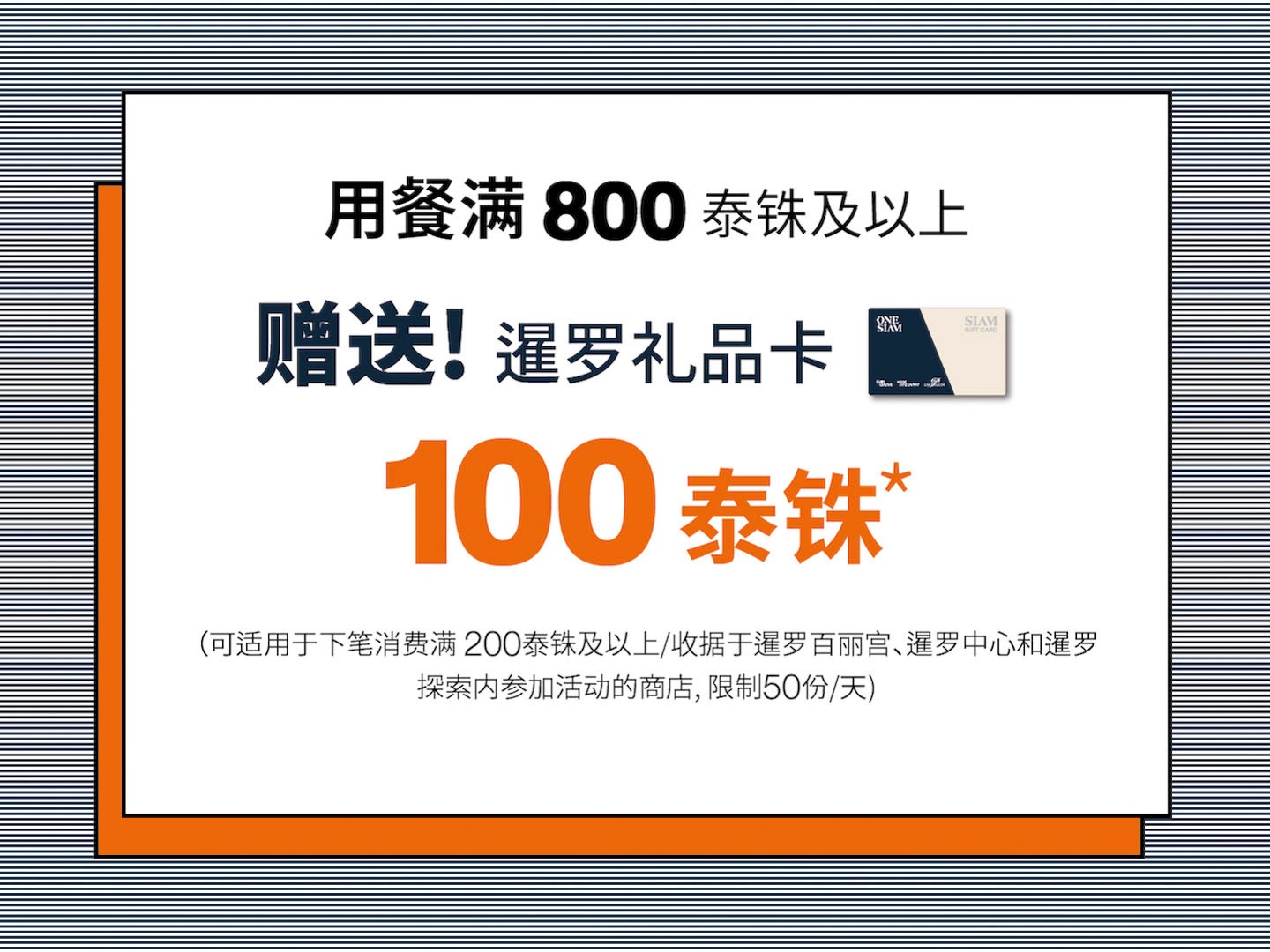 • 用餐消费满800泰铢及以上,即可兑换价值100泰铢的暹罗礼品卡*
(可适用于在暹罗百丽宫、暹罗中心和暹罗探索内参加活动的店铺,单张收据消费满200泰铢及以上方可使用,单次仅可使用一张暹罗礼品卡)
*每天限制50个名额,活动期间限制1,750个名额。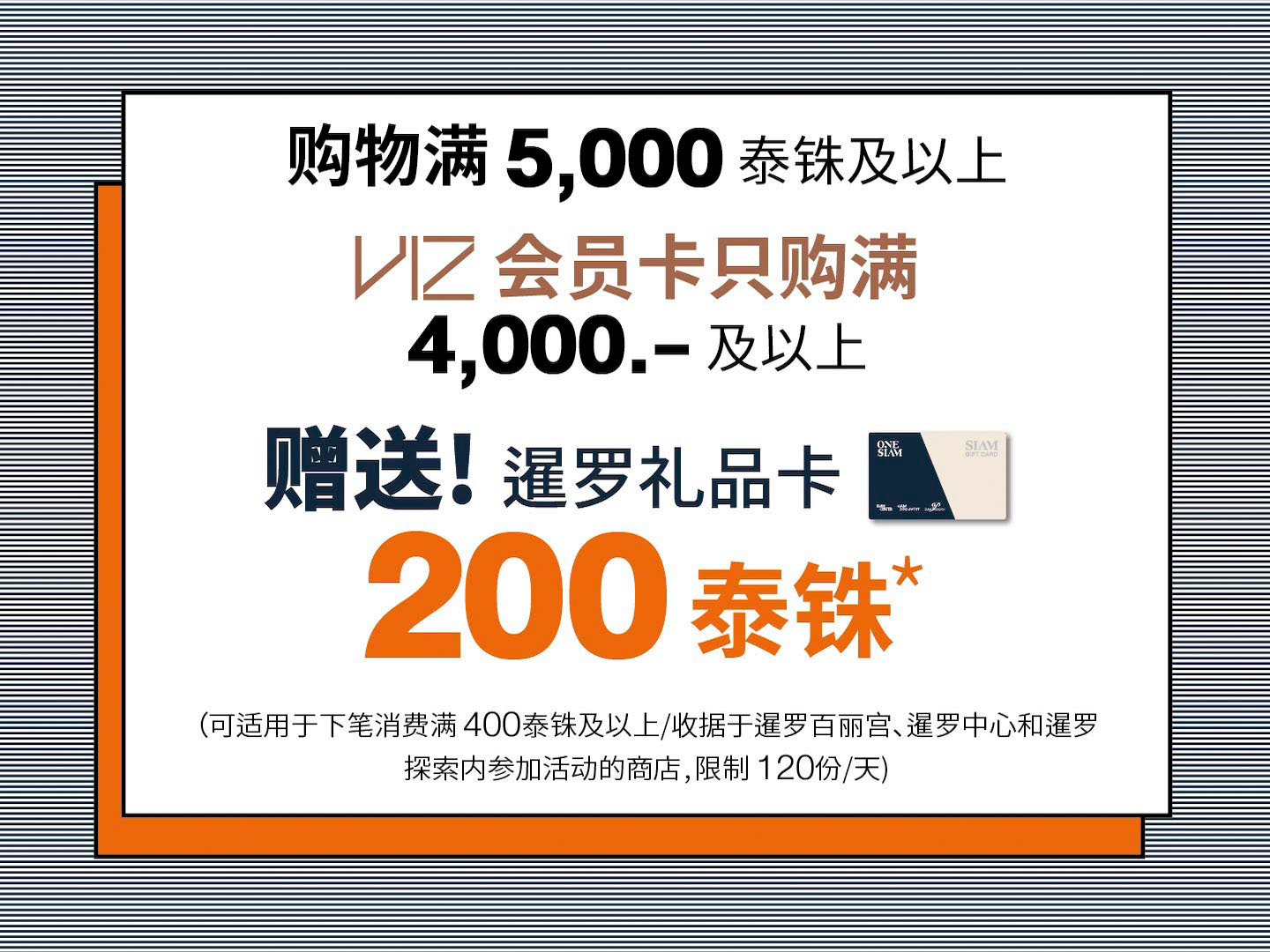 • 购物消费满5,000泰铢及以上,即可兑换价值200泰铢的暹罗礼品卡*
VIZ卡会员独享优惠,只需满4,000泰铢
(可适用于在暹罗百丽宫、暹罗中心和暹罗探索内参加活动的店铺,单张收据消费满400泰铢及以上方可使用,单次仅可使用一张暹罗礼品卡)
*每天限制120个名额,活动期间限制4,200个名额

兑换处:暹罗中心G层Redemption兑换柜台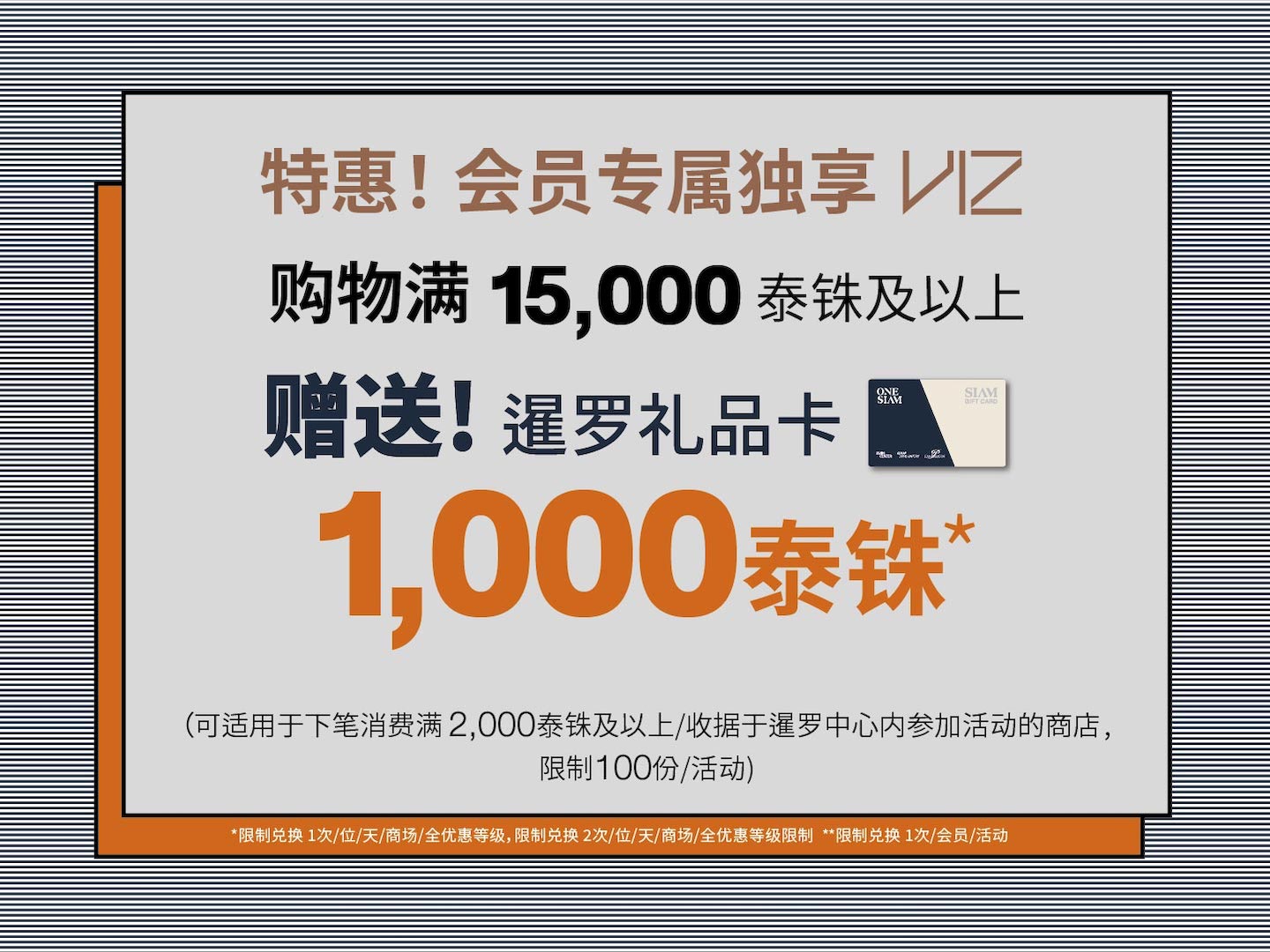 特别优惠! VIZ卡会员独享!
• 购物消费满15,000泰铢及以上,即可兑换价值1,000泰铢的暹罗礼品卡**
(仅限在暹罗中可使用礼品卡的店铺,单张收据消费满2,000泰铢及以上方可使用,单次仅可使用一张暹罗礼品卡)
兑换处:暹罗中心1层Absolute Siam绝对暹罗纪念品店侧VIZ会员柜台




特别活动!成功申请VIZ EXPAT的新会员即可免费获得价值200泰铢的礼品卡!***
领取处:https://bit.ly/33PnO0Q

暹罗百丽宫G层Stardome 区游客服务柜台

乐享:
• 折扣高达七折
• 积分计算:每消费50泰铢累积2分
• 礼品奖励:每满1,000积分,即可兑换价值100泰铢的礼品卡
• 生日特权
• 免费停车3个月***


*条款
1. 按照活动规则在各个购物中心购物后累计购物小票(仅限购物金额不低于500泰铢/笔的小票,每张小票/1个换取名额),并于当日在服务台换取暹罗礼品卡。
2. 仅限1次换取机会/每位/每家购物中心/每天(累计消费额),仅限2次换取机会/每位/每家购物中心/整个活动期间(累计消费额),名额有限。
3. 仅限在暹罗百丽宫Siam Paragon、暹罗中心Siam Center、暹罗探索Siam Discovery参与活动的商家中使用暹罗礼品卡,详情请咨询服务台。
4. 价值100泰铢的暹罗礼品卡仅限在接受暹罗礼品卡的商家消费200泰铢以上/每张小票时使用,价值200泰铢的暹罗礼品卡仅限在接受暹罗礼品卡的商家消费400泰铢以上/每张小票时使用,价值400泰铢的暹罗礼品卡仅限在接受暹罗礼品卡的商家消费800泰铢以上/每张小票时使用,价值700泰铢的暹罗礼品卡仅限在接受暹罗礼品卡的商家消费1,400泰铢以上/每张小票时使用。
5. 每张暹罗礼品卡仅限对应一张购物小票。
6. 暹罗礼品卡使用期限至2021年7月31日。
7. 暹罗礼品卡可用于购买或充值FOOD REPUBLIC的VIP卡(需支付50泰铢押金但不可兑换现金),但不可用于购买可兑换现金的一般餐饮卡。

**条款
1. 各类VIZ 会员满足条款消费即可享受优惠。
2. 请在暹罗中心Siam Center的Absolute Siam旁VIZ柜台或暹罗探索Siam Discovery G楼VIZ柜台联系注册登记购物额、领取奖品/咨询等服务。
3. 每位顾客在每家商场仅限领取1份暹罗礼品卡礼品,活动全程仅限200份礼品。
4. 价值1,000 泰铢暹罗礼品卡仅限适用于消费满2,000泰铢/每张小票/每张暹罗礼品卡。
5. 价值1,000 泰铢暹罗礼品卡仅限在暹罗中心Siam Center中接受暹罗礼品卡的商家中使用。
6. 暹罗礼品卡使用期限至2021年7月31日。
7. 价值1,500 泰铢暹罗礼品卡仅限适用于消费满3,000泰铢/每张小票/每张暹罗礼品卡。
8. 价值1,500 泰铢暹罗礼品卡仅限在暹罗探索Siam Discovery中接受暹罗礼品卡的商家中使用。
9. 暹罗礼品卡使用期限至2021年7月31日。

***新用户的暹罗礼品卡条款:
价值200泰铢暹罗礼品卡(下次消费满800泰铢可用)限量200张 • 活动全程仅限1次/人 • 顾客换领时需申请VIZ Titanium会员卡(VIZ EXPATS卡,仅限新用户)• 仅限在暹罗百丽宫Siam Paragon、暹罗中心Siam Center、暹罗探索Siam Discovery参与活动的商家中使用暹罗礼品卡 • 暹罗礼品卡使用期限至2021年8月15日 • 公司有权调整条款且不事先告知。

上述条款根据以下条款执行:
1. 若不能亲自到场换取,则须出示委托书。每位店员每天仅可接受2个授权书。
2. 换取时所需的材料是:参与活动商家的小票+身份证和信用卡+信用卡小票(若用信用卡支付)
3. 若为手写小票,请将顾客姓名和商家名称写清楚,不接受副本。
4. 在此活动中使用过的小票,不得在其他活动中使用。
5. 以下情况不可参加活动:小票副件、购买一件商品但分为多张小票,百丽宫百货商场(Paragon Department Store)及其中商铺的购物小票、Gourmet超市购物小票、Food Court小票、Food Hall小票、购买各种充值卡、各种形式的预售(提前付款)、转售、公共服务缴费或投资,如:保险、水电费、电话费等等,电话充值卡、兑换货币、公司购物小票。
6. 如果发现换取人存在欺诈行为,则取消活动中的上述权益。
7. 每位顾客仅可排队换取1次,保留向持有符合规则的小票的顾客派发礼品的权利,发完为止。
8. IT商家和手机商家须注明顾客姓名且与购买者身份证姓名一致,若小票上的姓名与购买者身份证姓名不一致或为公司购买发票,则不可参加活动。
9. 店员和商家在自家店铺的消费小票不得参与促销活动,若发现所出示小票不符合规则,有权取消奖品。
10. 公司不对因店员沟通有误造成的失误负责。
11. 若顾客换取奖品后退货,公司有权要求退还奖品且无需事先告知。
12. 公司有权变更活动规则和权益且无需事先告知。
13. 活动规则由公司制定,详情请咨询服务台,若有异议则以公司决定为准。